Read More:
---
Try to laugh over our present administration:
All the latest W Jokes
AG Ashcroft visits school
Draw the Line against terror
We know the Iraqi's have weapons of mass destruction because we have the purchase orders - check out this important WMD website.
George and Saddam debate!
W's foreign policy prowess: Hu's on first
Your E-vite to the war on Iraq
Latest News Release on Axis of Evil - and then some
Some late night views of the War on Terrorism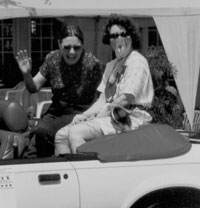 Political Humor
Keeping your sanity in this job requires keeping your sense of humor, and I love political humor. Here's a collection of my favorites, send me yours.
The Hit House - some people get hit pieces, I get a hit house. I could cry, I'd rather laugh:
Advice to Lady Delegates - I was elected at the Bradley for President caucus to be a delegate to the Democratic convention in 2000. Unfortunately, Senator Bradley didn't earn enough delegates for me to go to all the parties in LA, but my friend Dave sent me this advice from a 1956 Wall Street Journal.
Campaign 2004 Bumper Stickers here!
Classic Funnies:
Britain Revokes US Independence
Sexual identity in Afghanistan
The complete military history of France
Tales of Two Cows
Have you seen the latest Sprint advertisement?
My favorite Taliban cartoon so far...
LAFCO Presents - For those of you who aren't local government geeks, LAFCO is a really obscure commission that decides really important regional issues. Here is an event description of a recent meeting from the ultra-hip Squid List.
Why did the chicken cross the road? Some new answers for this campaign season, and some classic ones.