Read More:
---
International Experience - Women's Delegation to Cuba, October 1998; Reconstruction Projects in Afghanistan
Director - California Catholics for Free Choice
Fan - Political Movies and ChickFlicks
Professional Web Developer
Published Articles - "Sense of the Faithful", New Internationalist magazine, June 1998; "The Women of Afghanistan, Returning to Life", The Woman's Voice March/April 2003
Candidate - California State Assembly March 2002
Winner - Blue Ribbon and Best of Section winners for preserves, Santa Clara County Fair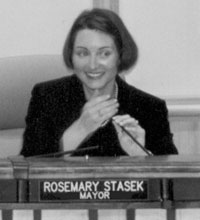 Welcome!
I have the most wonderful job. I get to serve on the City Council of Mountain View, California - a city of 75,000 in the hottest part of Silicon Valley. Thanks for stopping by my page and I hope you will contact me about issues you care about in our community.

---
This is a Blue Ribbon site. Please learn more about the important issues concerning free speech on the internet.
Fast Facts:
Elected to the Mountain View City Council November, 1996; Re-elected November 2000. Vice Mayor 1999, Mayor 2000.
Chair - Council Technology Committee
Member - Council Moffett, Finance, Downtown and Investment Review Committees
City Representative - Santa Clara County Emergency Preparedness Council, CalTrain Advisory Board
Member - Space Commander's Advisory Group, Joint Civilian Orientation Conference (DOD)
Winner - Distinguished Woman of the 14th Congressional District 1995;
Alameda National Women's Political Caucus Pro-Choice Champion Award 1995; Religious Coalition for Reproductive Rights Freedom of Religion Award 1992