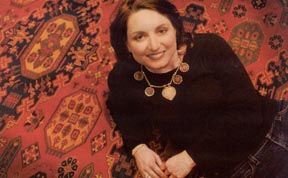 We regret to report
Rosemary Stasek passed away on September 24th, 2009 (heart attack).


PENNSYLVANIA
Tuesday October 6
6:00 to 9:00 PM – Viewing at Damiano Funeral Home, 24 East Blaine St. McAdoo, PA.
Wednesday October 7
10:00 AM – Funeral Service at Damiano Funeral Home
10:30 AM – Mass of Christian Burial will be celebrated at Church of All Saints McAdoo, PA
CALIFORNIA
Friday October 23
12:00 NOON – Memorial Services at Mountain View Center for the Performing Arts

In lieu of flowers, donations are being applied
to Rosemary's wonderful projects in Afghanistan!



Welcome to ...a little help, a charitable organization registered in the US (IRS 501c3) and Afghanistan working to improve the lives of women and girls. We are currently working on grassroots efforts to help women and girls impacted by the continuing instability in Afghanistan. Our donation recipients so far have included schools, clinics, maternity wards, vocational classes and women in prison. The programs page provides detailed program and financial information on all these projects.
I love to do speaking engagements to show slides and tell stories about the work we are doing with your generous help. Here are upcoming events, please contact me if you would like a presentation for your group.
September 28, 2009 - Counterinsurgency Leaders Course, Kabul, Afghanistan
October 17, 2009 - Northern California Sister Cities Organization Conference, Santa Clara, CA. 11:30am. For more information contact Teresa O'Neill.
October 19, 2009 - AAUW, Half Moon Bay, CA. 7pm. For more information contact Carol Forster.
October 28, 2009 - Amazing Women, San Jose, CA. For more information contact Consuelo Griego.
October 30, 2009 - Saratoga Rotary, Saratoga, CA. For more information contact Bill Comport.
November 1, 2009 - Afghanistan Reconstruction Summit, San Rafael, CA. For more information contact Masood Sattari
November 4, 2009 - Federated Women's Club of Los Altos, 12 noon. For more information contact Helen Foerster.
November 5, 2009 - Harbor Industrial Association, 12 noon. For more information contact Howard Jones
November 7, 2009 - Unitarian Universalists of San Mateo, 6pm. For more information contact Debra Leschyn
November 9, 2009 - Federated Women's Club District Conference, 12 noon. For more information contact Helen Foerster.
What's New?
So Proud - Roya Ehsas is the unstoppable volunteer program assistant for ... a little help and a talented writer. We couldn't be prouder she is getting a bit of the recognition she deserves in the LA Times.


Kid's DVD's - there are almost a hundred small children at the women's prison now and they are pretty bored with the couple of DVD's they have. We'd love to get some DVD's for kids infant to about 6 years old. Baby Einstein, Baby Mozart, those would be fantastic, cartoons, anything suitable for very small children who don't speak English.


Donate through your eBay sales!

MissionFish is a wonderful program where you can allocate between 10 and 100% of your eBay sale to benefit ...a little help. Learn How!
Special Message to our eBay donors - If you have been donating your eBay profits and not received a thank-you, it's because your MissionFish profile does not have an email address. Please send me a note so we can properly thank you!
We are currently raising funds for the following projects:
Regular yogurt supply to enhance the nutrition for the women and children in the Kabul women's prison

School supplies for teen age girls serving prison sentences, many for murders committed by a male family member.
You can make a donation in just a few minutes from our contributions page. Your donation will make a huge difference, a little goes a very long way. Our money goes directly to women working with women in Kabul so there's no overhead - your help really helps! No one receives a salary from donations to ... a little help, your money gets put to work where it belongs. With women and girls.
So many people are always asking how they can donate items like clothing, school supplies, and other things we could make such good use of here. I always had to tell them that there was no easy or cost-effective way to get the stuff here. That has now changed. Kathleen Rafiq has received a contract with the US military to receive donations through the military shipping system and distribute them to rural villages where they are most needed. Here's how you can help.
Thank you for visiting this site, be sure to check out the photos, resources for additional information, and the great media coverage our work has received. If you're bored, there are podcasts and blogs from previous years. And please drop me a note - I'd love to hear from you!
home | programs | photos | events | media | contribute | resources | contact